To find the right wedding outfit for man is not that easy. The big day for two lovers is standing right before. I have been to many weddings because I planned them and then carried them out. It is a really important day, where a lot is planned a year and more in advance. But the day is not only very important for the bride and groom. As soon as you have received an invitation to the wedding as a wedding guest, the big questions already arise. How should the present look like? What outfit do the men wear for the wedding? I would like to answer all of these and many more questions for you.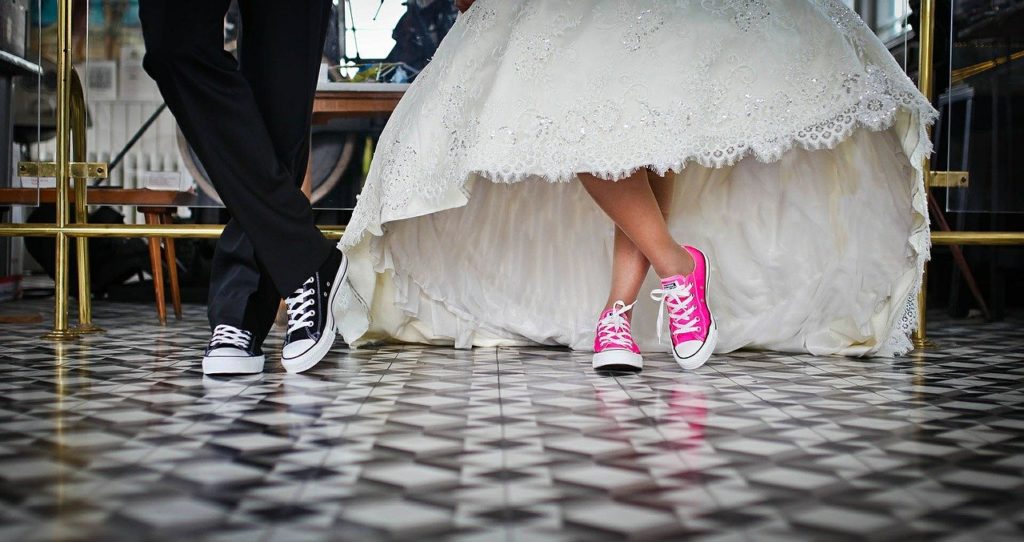 In the next few minutes you will not only get good suitable styling tips for your next wedding outfit, but also get inspiration for good gifts and of course one or two insider tips. As a future guest, you will be well prepared and can relax and enjoy the wedding day.

Step 1: Analyze location and Newlyweds
Before you define the wedding outfit as a man and find your perfect style, let's start at the beginning and look closely at what kind of wedding it is. There are weddings with several hundred people, some go to church and some do not. At the next wedding there is a nice breakfast buffet the next day with the wedding guest. So what clothes to wear as a man when there are three occasions in one? It's always boring to always appear in the same outfit at the wedding. You need something diversified to be a real Gentleman.
If you know what is happening at the wedding and you will planning with three different outfits. Now is a matter of looking at the style in which they are getting married. What is the character of the newlyweds? Are they more alternative, conservative or have a special fable for some cool fashion? In addition, should you inform yourself about the wedding location? Is it an old estate or a modern hotel in the city? If the wedding maybe takes place by the sea, you can also set maritime accents in your outfit.
Now you have some good information to start with the Outfit.
Step 2: Choose the wedding outfit for a man
So what do I combine and how? And which wedding outfit suits to which wedding. The outfit says a lot about you and it should be well chosen. Years later you and the other wedding guest will look at the pictures. You should be THE MAN.
Here some of the best Outfits for every Wedding. You can also use them for College degree, Thanksgiving or something else.
1. The colorful outfit:
Some weddings are just conservative and in the invitation already is the hint for "black tie". Unfortunately, colorful outfits don't get that far than. However, if the wedding is more summery, you can still do a little more with your clothes. It also makes sense to wear chinos and a jacket in a more striking color than dark blue or black. You can try a red jacket and a beige chino. Perfekt fit to this would be a blue oder white shit. So that the look is perfect, I recommend a pocket square in a summery folding. Although the wedding may be very casual, I still recommend to wear a bow tie or just a nice tie. It shows class and decency. These can also look summery and happy, but without it it can look too much like a leisure look. So feel free and create your colorful style.
2. Outfit for a wedding reception
You can also go with a cool and dark DENIM jeans to the wedding. Or at least to the reception with Champagner and fingerfood. However, there are a few rules to follow. Otherwise you can stand there like an idiot who don't know how to dress well. The jeans should fit very well and must not be too wide or too tight. In addition to this, the jeans should have a strong, really dark blue or black and is made of cotton. In best case the jacket should make a contrast. The darker the pants, the lighter the jacket should be. Perfect suitable to this would be a colorful pocket square. Also a white shirt und brown shoes are perfekt for this wedding outfit. The unconventional but chic look for the wedding is ready. This look is also great for breakfast the day after. There you can also leave out your tie or bow tie.
3. Suit made of Linen with subtle colors for a perfect wedding outfit
What could be worse than putting on a chunky, heavy suit? When you are only ten minutes at wedding and it's a little warm outside, you start to sweat directly.
To avoid the sweating you can try an suit made of linen. These are chic enough for the wedding and fit very relaxed and airy. The perfect wedding outfit for man especially in midsummer.
These suits made of linen come in different and really cool colors. Choose something subtle like a light gray or light blue. You emphasize the whole thing with a tie and a pocket square in bright colors. The shirt should be white and the shoes can be a slight contrast to the suit made of linen. More about colors you can read in our very detailed page about it.
4. Elegant and simple
If you don't want to try something very new or if the colors and the linen suit don't go well with the wedding you are invited, you can also choose a simple but elegant suit in a dark blue or grey. You can combine them very well with a white shirt and a colorful tie or tie and bow. With this look, you are guaranteed not to go wrong at the wedding and will not attract too much attention.
Perfect suitable to this simple but elegant outfit is a metallic watch. For a special touch and a slight accent, a pocket square in the breast pocket also looks very good. The outfit is almost finished. Try either brown or gray shoes, depending on the color of the suit. If the wedding is more casual, you can also wear white sneakers until dinner.
5. The timeless classic at a wedding
For really chic and special weddings, it is usually already on the invitation. The bride and groom asks for a black tie. So put on a tuxedo and a bow tie. This look is very luxurious and rather conservative. The outfit is perfect for real gentlemen and gives the whole wedding a special touch. You feel awesome not only at the wedding.
To start with this outfit, you choose the best patent shoes for the wedding outfit and polish them over again. If you want a little contrast, you can use red socks instead of black or brown. Make sure that they go up to your calves so that you don't see a "naked" leg. When choosing the tuxedo, make sure that the buttons are covered with satin.
You can also choose the envelope in the chest area in a different color. For the shirt please choose one with cufflinks and concealed button placket. The color of the cufflinks could contrast with the socks. The shirt is of course white and the bow tie is black.
Now that you have analyzed what kind of wedding it is, you can use this inspiration to decide well about the wedding outfit for man. Either colorful and casual, rather unconventional and simple, but especially airy and relaxed, classically elegant and modern or just timeless and extremely chic. It is up to you. What do you. like the most? What is perfect for the wedding? Will you be THE MAN on the pictures years later?
Some more inspiration about Fashion, style and more you can find on my Pinterest. See you soon and all the best on the next wedding.